May 19, 2020 Update
 
Changes to Operations at Plaza Auto Group Dealerships Due to COVID-19


All Plaza Auto Group dealerships sales, service and parts departments are now open to the public without an appointment, although appointments are greatly appreciated. Your safety and comfort remain our top priority and social distancing and hygiene practices are in place as they have been since the start of this crisis. Customer lounge and waiting areas have limited capacity due to social distancing practices in place so we kindly ask that you limit the number of people accompanying you, when possible.
All dealerships have online sales allowing you to choose your vehicle, arrange financing and payment and have your vehicle delivered to your door. 
To serve you safely, you have the choice of: Scheduled showroom appointments, Virtual Appointments and Online Purchasing for anything you need help with. 
We can connect using FaceTime, What's App, Zoom, Apple Chat, Text, E-mail or Phone. Let us know your preference and we will connect you with someone in Sales, Service, a Technician, or Finance Specialist.


Visit one of our locations for complete details about our online sales and "Shop at Home" service.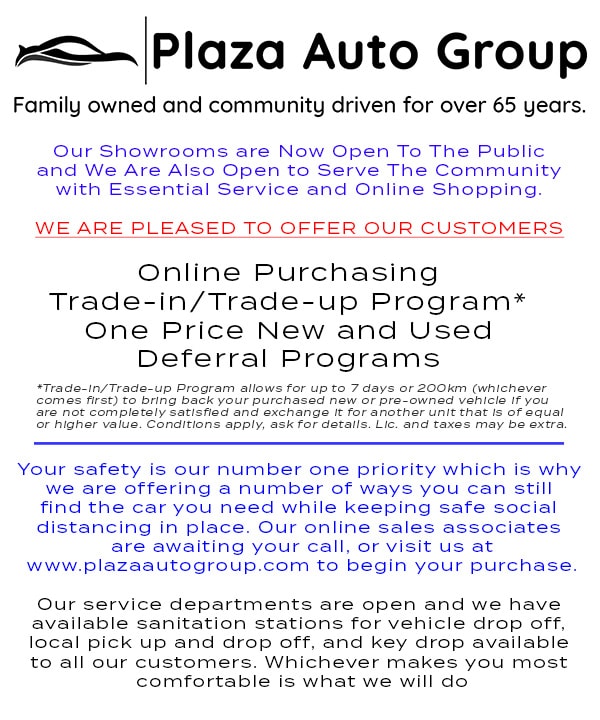 Message from the President and Owner
 
Your safety is important to us, as such we are informing you of the following practices that we have implemented to support your safety (and the safety of our employees) during this coronavirus outbreak.
 
The following steps are occurring at all Plaza Auto Group businesses immediately and will be for the duration of this pandemic.
 
You can expect that all our employees will:
Wash their hands regularly for 20 seconds with soap (e.g. at least every hour, or greater as needed).

Will not offer a handshake, but perhaps a kind wave hello, or they will just advise they are not shaking your hand in an effort to protect everyone.

If they sneeze or cough, they will turn away and do so into their elbow to limit spread.

Use company provided sanitary wipes throughout our facilities and assign at least two persons at each location to be on duty throughout our operating hours wiping down counters, door handles, bathroom and kitchen counters etc.

Not share a phone or desk / working station unless they continue to wipe down regularly and before any shift changes.

Avoid coming into contact with someone who appears ill coughing, sneezing, (beyond a normal sneeze or cough), and they will advise their Manager so we can then try to communicate and service our customer while keeping a reasonable distance.

Ensure everyone reviews our company Health and Safety training and refreshers in this regard.
 
What if our employees show signs of symptoms?

Our employees have been instructed to go home (and for up to two weeks if deemed necessary), with job protected leave and company support.

We have educated our employees on what Health Canada and Health Ontario are recommending be done for persons with mild to no symptoms, and for persons with greater symptoms.

We have advised there cannot be travel to banned or vulnerable counties at this time.
 We appreciate our customers' support in these critical efforts, and we welcome your feedback and/or recommendations. Please do not hesitate to ask for and speak with a senior manager to support your needs.
 
Sincerely,
Robert Stein
Dealer Principal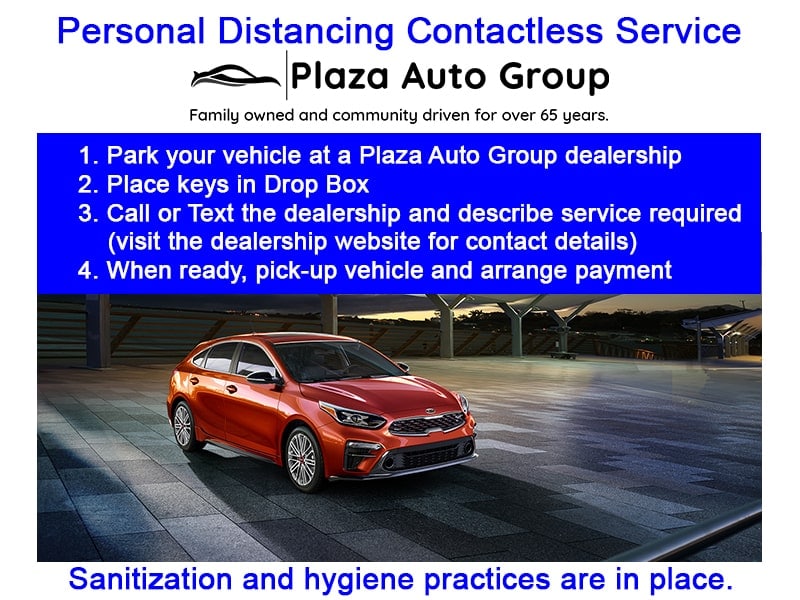 Community First Emergency Services
 
We understand the importance of having a reliable and trouble-free vehicle is during these critical times. We have in place staff available for after-hours assistance and modified our hours of operation at our dealerships.

Our service departments are available for emergency service on your vehicle. Contact service to arrange your appointment. Parts are available with curbside pickup only.

Staff are available through email, phone and text should you want a newer and more reliable vehicle. Contact sales at any of our dealerships for more information.
 Your safety is important to us and we have in place enhanced hygiene and sanitizing practices to protect the safety of our customers and staff at all locations.
 
Service and sales staff can be contacted by phone (after-hours voicemail messages will be returned as soon as possible), email, website chat, Google Maps Messaging on Mobile and Facebook Messaging. Please visit the dealership location pages for direct contact information